Creating and Navigating Tables in MS Word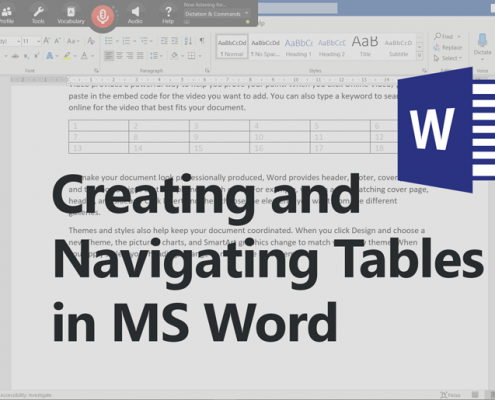 Did you know, Dragon Professional has built-in commands that make it so easy for you to create and navigate the cells of tables within Microsoft Word.
This handy tip will get you going!
Creating a table.
To instantly create a table in Microsoft Word, decide on the dimensions and as an example simply dictate the command phrase "insert a six by three table". In our example, the six is the number of columns and three is the number of rows.
Navigating the cells of a table.
Once the table has been created, think of it as a grid of numbered cells where the top left cell is number one and the top right cell is number six.
Now you can navigate your way around the table by dictating command phrases such as "goto cell nine" or "goto cell twelve".
Dragon Speech Tips #DST20210120
Applies to:
Dragon Professional Individual, Group, Legal, Medical or NaturallySpeaking (13+) Professional
Microsoft Word Office

A Good Read! Quickly teach yourself how to create your own bespoke Dragon voice commands that carry out application functions, automate PC applications and enhance your hand-free experience. With Dragon Professional – A Step Further, you will become familiar with the types of Dragon Professional commands you can create and the types that are best suited to fulfil your requirements. Check out Dragon Professional – A Step Further today!
Need Dragon Training?
Let one of our Dragon trainers assist you
Do you want to get more out of your Dragon application? we can help!
We provide Dragon training to support all levels of users and in an environment that is best suited for your needs. Click the button below for more details.