Changing the colour of MS Excel Worksheet Gridlines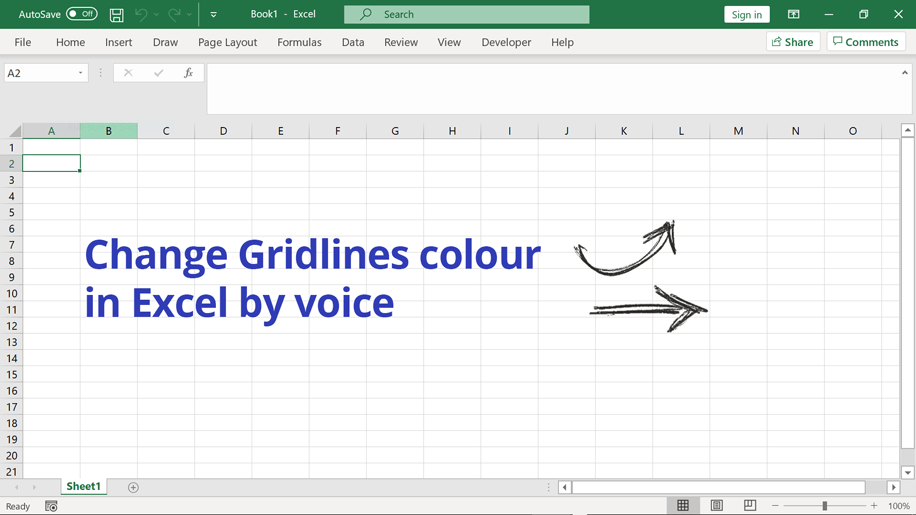 The majority of Excel users leave the gridlines visible so that individual cells can be easily distinguished. Excel by default, displays the grid lines in a light grey colour which is not ideal for all users, especially those with visual impairment. Rather than going through the process of accessing the Excel options, selecting the 'Advanced option', ensuring the option 'Show gridlines' is checked and then choosing a required colour – Save yourself some time by downloading and importing our free set of Dragon commands to perform a change of colour by voice.
Once imported into your Dragon Professional application, Open Microsoft Excel, and use it by saying:
"change worksheet gridlines to red"
"change worksheet gridlines to default colour"
Note: The available colours are: default colour | black | blue | green | magenta| red | white | yellow
Dragon Speech Tips tool #DST20200901
Provides a set of voice commands that enable you to change the colour of the MS Excel gridlines by voice. Click here to watch the voice commands in action!
Applies to:
Dragon Professional Individual, Group, Legal, Medical or NaturallySpeaking (13+) Professional
Microsoft Excel Office 365 (32 bit)

A Good Read! Quickly teach yourself how to create your own bespoke Dragon voice commands that carry out application functions, automate PC applications and enhance your hand-free experience. With Dragon Professional – A Step Further, you will become familiar with the types of Dragon Professional commands you can create and the types that are best suited to fulfil your requirements. Check out Dragon Professional – A Step Further today!
Need Dragon Training?
Let one of our Dragon trainers assist you
Do you want to get more out of your Dragon application? we can help!
We provide Dragon training to support all levels of users and in an environment that is best suited for your needs. Click the button below for more details.