Highlighting text and Extracting highlighted text in MS Word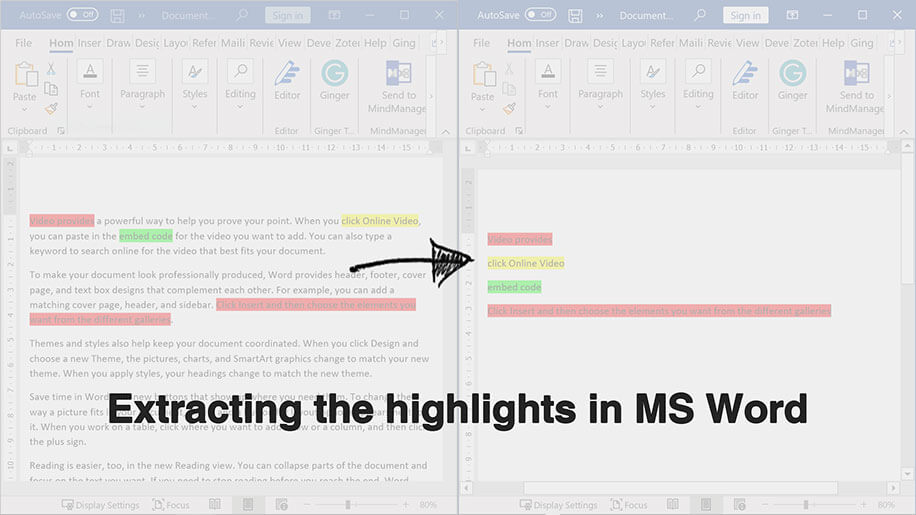 When reading through documents, you may like to use the MS Word highlight function to highlight key points of text in different colours. However, this can prove rather tedious by constantly having to change the default colour. Life would be made so much easier by using a voice command, that when a portion of text has been selected, one can then say, "highlight text red", "highlight text yellow" etc.
Equally, you may find it useful to extract all your highlighted text within your MS Word document and have them extracted to a new MS Word document for further review, simply dictate "extract highlighted text".
Dragon Speech Tips tool #DST20200725
Provides a set of voice commands to carry out the highlighting of selected text in various colours as well as a voice command to extract all highlighted text in the current MS Word document to a new MS Word document. Click here to watch the voice commands in action!
Applies to:
Dragon Professional Individual, Group, Legal, Medical or NaturallySpeaking (13+) Professional
Microsoft Word Office 365 (32 bit)
Once imported, Open Microsoft Word, select some text and try it by saying:
"highlight text red"
To remove the highlighted colour from the selected text which is highlighted, try it by saying:
"remove the highlight"
To extract the highlighted text in Microsoft Word to a new MS Word document, try it by saying:
"extract highlighted text"
Note: The available colours are: green | red | yellow

A Good Read! Quickly teach yourself how to create your own bespoke Dragon voice commands that carry out application functions, automate PC applications and enhance your hand-free experience. With Dragon Professional – A Step Further, you will become familiar with the types of Dragon Professional commands you can create and the types that are best suited to fulfil your requirements. Check out Dragon Professional – A Step Further today!
Need Dragon Training?
Let one of our Dragon trainers assist you
Do you want to get more out of your Dragon application? we can help!
We provide Dragon training to support all levels of users and in an environment that is best suited for your needs. Click the button below for more details.